This school district wants to arm students with stones — to throw at school shooters
Comments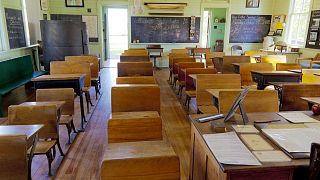 Copyright

Pixabay/bairli1
An American superintendent's decision to equip classrooms with a bucket of river stones — so that students and faculty can throw them at an armed intruder in the event of a shooting — has stirred another debate on school safety in the US.
David Helsel, superintendent of the Blue Mountain School District in Pennsylvania, told lawmakers at a state House Education Committee hearing on school safety on March 15 about his strategy.
"Every classroom has been equipped with a five-liter bucket full of river stones. If an armed intruder tries to gain entrance into one of our classrooms, will face a classroom full of students armed with rocks and they will be stoned."
Asked by a lawmaker about his choice of strategy, Helsel responded that some people in the school "have a good arm, they can chuck a rock pretty fast".
Helsel added that he also chose rocks as a defense tool because they don't bounce back like golf balls, so their collateral damage was minimal.
After critics voiced their disapproval of the measures, Helsel took to Facebook to clarify his position, saying that in case of an armed intruder, Blue Mountain school district is to follow emergency security guidelines developed by the ALICE Training Institute — which stands for Alert, Lock Down, Inform, Counter, and Evacuate — explained Helsel on a Facebook post.
Helsel emphasised the measure was a "last resort" and that lockdowns and evacuations are also in the plan.
The students are only allowed to throw the stones if the intruder manages to get past the barricades put in place by the teacher. This is "a last level of defense against the intruders," added Helsel.
Euronews reached out to Helsel for comment.
'We have to get creative'
Parent Dori Bornstein told a local news channel she liked the plan: "At this point, we have to get creative, we have to protect our kids first and foremost, throwing rocks, it's an option."
But not everyone was pleased about their kids defending themselves with rocks.
Regan Cameron Hutchins, whose daughter is in elementary school, blasted the idea on social media.
Susan Spicka, the executive director of an organisation called Voters of Pennsylvania, who attended the meeting called out in a Facebook post the jokes Republican lawmakers made about the strategy, saying members of the committee think it's funny that children might have to defend themselves from a shooter with rocks.