EU states may act against Russia as leaders back UK in spy poison case
Comments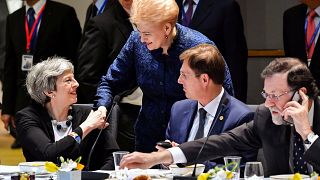 The EU has recalled its ambassador to Moscow after leaders agreed it was "highly likely" Russia was responsible for a nerve agent attack in the UK.
The EU said Markus Ederer, a German, had been recalled "for consultations" and was expected in Brussels this weekend.
Former Russian spy Sergei Skripal and his daughter Yulia are still in a critical condition after they were exposed to a deadly substance on 4 March in Salisbury, England.
At a two-day summit in Brussels, the European Council of EU leaders said in a statement that there was "no plausible alternative" to the theory that Moscow was behind the incident, although Russia has denied responsibility.
Russia described the EU accusation on Friday as "baseless". Its Foreign Ministry has released a statement describing the European Council's conclusions as "regrettable".
'A serious challenge to our security'
French President Emmanuel Macron said on Friday that several states, including France and Germany, would take swift measures in response.
"We consider this attack as a serious challenge to our security and European sovereignty, so it calls for a coordinated and determined response from the European Union and its member states," Macron told a joint news conference with Angela Merkel.
Speaking alongside him, the German chancellor said EU countries would debate what measures to take "and then act".
Several European governments have also moved closer to expelling Russian diplomats in a show of support for Britain.
Czech Prime Minister Andrej Babis said he would probably announce the expulsion of several people on Monday, once he had returned to Prague and consulted with his foreign minister.
Baltic states may do likewise. Latvia's government has issued a statement agreeing with the UK's assertion on Russia's likely responsibility. Foreign Minister Edgars Rinkevics told Latvian Radio that the country would support Britain and would decide on the expulsion of Russian spies next week, working with other EU countries.
Lithuanian President Dalia Grybauskaite has said she is ready to make a similar move. "It is certain that a coordinated action will be taken next week, maybe at the start of it," she said, describing the activities of Russian spies as deeply harmful. "It's absolutely obvious that the network exists and that it acts aggressively."
Hesitations overcome
Romania's President Klaus Iohannis stressed that national governments wanted control of the details in an area where they guard their sovereignty from Brussels.
Some leaders said they could not afford Russian retaliation against their own thinly-staffed embassies. Austria said it did not plan to expel Russians. Ireland's Prime Minister Leo Varadkar said his government would consider individual action but "we're not going to expel people randomly".
Earlier, after Thursday's late night session, British Prime Minister Theresa May thanked European leaders for their support over the matter:
"I welcomed the agreement last night from the EU Council, that they accepted, the agreed, the United Kingdom's government's assessment that it was highly likely that Russia was responsible for the attempted murder that took place on the streets on Salisbury and that there was no plausible alternative explanation."
The European Council's statement said that it stood in unqualified solidarity with the United Kingdom in the face of a grave challenge to shared security.
"Additional steps are expected as early as Monday at the national level," the summit's chairman Donald Tusk told reporters.
The moves represent a hardening of the European position, with the statement coming despite the hesitation of some states closer to Moscow.
British diplomats expelled from Russia have left the embassy in Moscow ahead of Russia's deadline.
The Russian Foreign Ministry acccused the bloc of spurning cooperation with Moscow and joining "another anti-Russian campaign deployed by London and its allies overseas with an obvious goal: to put another obstacle on the path to the normalisation of the situation on the European continent".