Russia has 'no right' to see nerve agent samples
Comments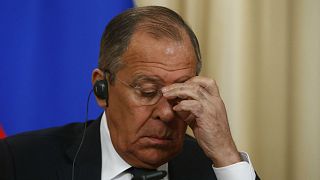 Russia is wrong to claim it should have access to the military-grade nerve agent used to attack a former spy and his daughter, experts have told Euronews.
London has accused Moscow of being behind the poisoning of Sergei and Yulia Skripal, who remain in a critical-but-stable condition in hospital.
Russia has denied any involvement and said it will only respond to British requests to provide answers about the poisoning if it can access samples of the substance.
Sergei Lavrov, Russia's foreign minister, said London was obliged to allow Russia to see the samples because both countries were signatories to the Chemical Weapons Convention (CWC).
But experts have rejected Russia's claims.
"There is no specific requirement for the state that has a concern to share a sample with the state that has caused the concern," said Dr Ralf Trapp, an international disarmament consultant based in France.
Specialists from the Organisation for the Prohibition of Chemical Weapons (OPCW) — which administers the CWC — are currently in the UK examining the nerve agent, at the request of the British government.
"Russia has no right to have access to the samples," said Professor Alastair Hay, a chemical warfare expert from Leeds University.
"I suspect, but maybe wrong, that the UK would not want to run the risk of Russia investigating the samples and claiming it had either found nothing or something quite different. That would then develop into an unhelpful argument."
The CWC is a 1997 arms control treaty that outlaws the use or stockpiling of the substances. It was signed by 192 countries, including Russia and the UK.
"The entire Russian chemical arsenal was completely eliminated on September 27, 2017, as confirmed by an authorised international agency, the Organisation for the Prohibition of Chemical Weapons (OPCW) that consists of 192 member-states, including the United Kingdom," said Russia's Foreign Ministry in a statement on its website.
"The Russian Federation — which has been groundlessly accused by the United Kingdom of using the Novichok nerve gas — has never manufactured, stockpiled or adopted it.
"Although the British side has created an extremely unhealthy situation around the Skripal case, Russia confirmed its readiness for open and constructive cooperation with the United Kingdom, in line with the OPCW regulations and under other international treaties and agreements that might apply to the investigation of the Salisbury incident."