Denmark to protect its pigs by building fence on border with Germany
Comments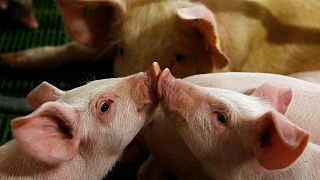 Denmark has vowed to erect a 70-kilometre fence along its border with Germany to help protect its lucrative pork exports.
It wants to protect its pigs by keeping wild boar — carriers of the deadly African swine fever — from entering the country.
There have not been any cases in Denmark but there is concern in Copenhagen over the disease's presence in nearby countries.
It already exists in Poland, Czech Republic, Romania, Estonia, Latvia and Lithuania, according to the Danish government.
Denmark is one of the biggest pig exporters in the European Union and it's worth billions of euros each year to the country.
"I don't want to risk anything," said Denmark's food and environment minister, Esben Lunde Larsen.
"An African swine fever outbreak in Denmark would shut down all exports to third countries immediately.
"A fence will keep potentially infected wild boars from crossing the border and make it easier for hunters to eradicate wild boars from Denmark."
African swine fever is harmless to humans and other animals. But for wild boar and farm pigs, the disease is deadly in almost all cases within 10 days. There is no vaccine against it.
Other measures to prevent the fever entering Denmark include larger fines for failures to clean animal transportation vehicles properly and illegal food imports.
The fence is expected to be 1.5 metres tall and cattle grids or gates will be installed along footpaths that cross the Danish-German border.