Welcome to one of the strangest and most complex border situations in the world.
Welcome to one of the strangest and most complex border situations in the world. These are the intertwined villages of Baarle-Hertog, which is in Belgium and Baarle-Nassau, which is Dutch.
You're standing right on the border between Belgium and the Netherlands. The door on the right side is in Belgium, the left door is in the Netherlands.
The Belgium town is made up of 22 enclaves. These are pieces of tiny land surrounded by Dutch territory. The Dutch town exists of eight enclaves, of which seven are sub-enclaves within the Belgium enclaves, located within the Netherlands.
With this level of complexity, the town decided to visualise the borders on the pavement. If you follow it, you quickly realise that it runs criss-cross through the town's roads, gardens, and even straight through people's living rooms.
Mrs van Gool, who has lived in the Dutch part her whole life, explains smuggling was frequent in the region. People would wear special clogs backwards to mislead customs. And women would smuggle butter under their clothing because they couldn't be frisked by police-men – until the police made them next to the radiator so the butter waiting for the butter to melt.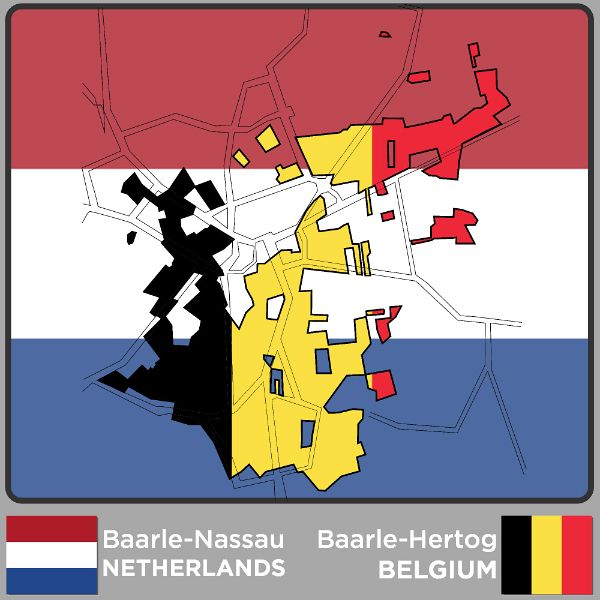 Today, there are still side-effects: the Belgian bread tastes much better says Van Gool, and petrol is much cheaper in Belgium. Yet for groceries everyone goes to the Netherlands. You won't even find a supermarkets on the the Belgium side.
While residents found a way to live harmoniously together, governing this confused mess is a whole new kettle of fish. A bit like a forced marriage with a daily dose of strange municipal politics. Yet both mayors dream of unification, for the sake of their residents.
Marjon De Hoon-Veelenturf, the Mayor of Baarle Nassau, says: "It would be brilliant if these two city councils from different countries could become a single European entity. But in reality that idea is still a utopia."
Her Belgian counterpart, Leo van Tilburg, Mayor of Baarle-Hertog, says "We will probably never experience that. It is legally impossible at the moment. And if it were to happen, which I am in strongly in favour of, the cultural sensitivities are likely to resurface."
For now, the focus is on improving collaboration. Constant negotiation about sewage, public lighting and road construction is inevitable. If not, like in the past, situations will occur where one council decides to lay a road with bricks, while the other puts asphalt.