Migrants stranded in Greece march against racism
Comments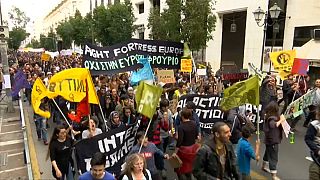 Thousands of protesters, many of them migrants stranded in Greece, took to the streets of Athens to march against racism.
The protesters chanted "open the borders" and marched and waved handmade placards.
It's after sixteen migrants drowned at the weekend in the Aegean Sea, 5 of whom were children.
Children's faces were painted with black lines to symbolise the razor wired fences erected in Europe in 2015.
Chloe is Canadian and a volunteer helping with the migrants and a protestor and she said, "This is certainly not the first boat that is sunk and it won`t be the last, unfortunately, and there has to be a better way, there has to be a safer way to get these people over and to leave them to their deaths in the middle of the ocean is just completely unacceptable."
Petros Costantinou is the President of KEERFA (United Against Racism and the Fascist Threat Movement) and he said, "This is a crime on the hands of the European Union that they signed the agreement between them and Turkey. We demand an end to this. We want open borders."
Protests have erupted over delays of processing migrants as well as the living conditions in camps described as unfit for humans.
The march is ahead of the UN's International Day for the Elimination of Racial Discrimination on March the 21st.