Facebook: "One of the largest data breaches in the history of the company"
Comments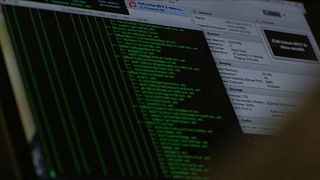 Investigations have been launched in the US and UK into a data analytics firm which, it is claimed, harvested private information from more than 50 million Facebook users in developing techniques to support President Donald Trump's 2016 election campaign.
Its being called one of the largest breaches of security in the company's history.
Whistleblower Christopher Wylie says the system could profile and target voters:
"Imagine I go and ask you and I say "Hey, if I give you a dollar, two dollars, could you fill out this survey for me, just do it on this app and you say 'fine', I don't just capture what your responses are, I capture all of the information about you from Facebook but also this app then crawls through your social network and captures all of that data also so, by you filling out my survey, I capture 300 records."
The Massachusetts attorney general says her office is launching an investigation after reports in the New York Times and the UK Observer.
What the attorney general has said
"Massachusetts residents deserve answers immediately from Facebook and Cambridge Analytica," Maura Healey said on Twitter.
What the UK is saying
The UK's Information Commission says it is investigating the company, which has clients in the country.
"Any criminal and civil enforcement actions arising from the investigation will be pursued vigorously," said Elizabeth Denham, Information Commissioner.
What Facebook is saying
On Friday, the social network site said it was suspending Cambridge Analytics after finding data privacy policies had been violated.
It means Cambridge and its parent group, Strategic Communication Laboratories (SCL), cannot buy ads or administer pages belonging to clients.
"One of the largest data breaches in the history of Facebook"
The articles cite former Cambridge Analytica employees, associates and documents. The data breach is described as one of the largest in the history of Facebook Inc.
The UK Observer said Cambridge used the data, taken without authorisation in early 2014, to build a software program to predict and influence choices at the ballot box.
It quoted whistleblower Christopher Wylie as saying the system could profile individual voters to target them with personalised political advertisements.
"We exploited Facebook to harvest millions of people's profiles. And built models to exploit what we knew about them and target their inner demons. That was the basis that the entire company was built on," Wylie told the Observer.
The more than 50 million profiles represented about a third of active North American Facebook users, and nearly a quarter of potential U.S. voters, at the time, the Observer said.
How was it done?
The Observer said the data was collected through an app called thisisyourdigitallife.
Hundreds of thousands of users were paid to take a personality test and agreed to have their data collected for academic use. Information of their friends was also taken.
Facebook said it acted after receiving reports inappropriately shared information was not deleted.
What has Cambridge Analytica said?
A spokesman says a contractor, GSR, "was contractually committed by us to only obtain data in accordance with the UK Data Protection Act and to seek the informed consent of each respondent".
"When it subsequently became clear that the data had not been obtained by GSR in line with Facebook's terms of service, Cambridge Analytics deleted all data received from GSR," the spokesman said.
"We worked with Facebook over this period to ensure that they were satisfied that we had not knowingly breached any of Facebook's terms of service and also provided a signed statement to confirm that all Facebook data and their derivatives had been deleted."
"No data from GSR was used by Cambridge Analytica as part of the services it provided to the Donald Trump 2016 presidential campaign."
What is the connection with Donald Trump's presidential campaign?
The Trump campaign team hired Cambridge Analytica in June 2016. It was paid more than $6.2 million, according to Federal Election Commission records.
A Trump campaign official said the campaign used the Republican National Committee for its voter data in 2016, not Cambridge Analytica.
In past interviews, Brad Parscale, who ran Trump's digital ad operation in 2016 and is his 2020 re-election campaign manager, has said Cambridge Analytica played a minor role as a contractor in the 2016 campaign.
Sources say the Trump campaign will need to address whether it was aware of Cambridge Analytica's methods for obtaining its data or if the data was leveraged during the election.