Thousands of Spanish pensioners protest over pensions
Comments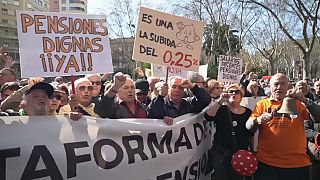 Thousands of Spanish pensioners rallied in protests in Barcelona for an increase to their pensions.
Unions called for protests in over a 100 cities and towns across Spain.
Many are complaining that the government's 0.25 percent increase in 2017 is insufficient.
Antonia is 70 years old and said, "The cost of living is going up and the pensions are only increasing by 0,25 percent. So the pension is not enough. Before I paid 150 Euros in electricity, now I pay 200. So it is not enough to get by until the end of the month".
As the number of retirees rises, experts have warned about the future of the pension.
The Spanish government says 139 billion euros was paid last year in state pensions