Protests as Trump contemplates his border wall
Comments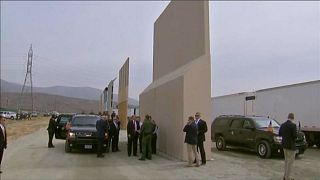 US President Donald Trump arrived in California on Tuesday to view the first prototypes of his long-awaited border wall.
Eight nine-metre models were on display for his perusal.
His promise to stop drugs and illegal immigrants from entering the US were a central plank of his 2016 presidential campaign.
Funding question
Trump said he'd make Mexico pay for the wall but he's been forced to ask the US Congress for 18 billion dollars to fund the barrier.
Democrats have been refusing to vote the money for the structure unless Trump and the Republicans back down on their draconian proposals on immigration policy.
Protests
On the other side of the border, Mexican protestors said migration couldn't be stopped.
"The migration problem is a human phenomenon: people will move regardless. A fence can be jumped over; it can be perforated; it can be tunneled under; you can go over it by plane; and also, legally, there is corruption amongst the border agents," said Sergio Tamai, an activist with Migrant Alliance.
Protestors also turned up near the San Ysidro border crossing, where tens of thousands of people enter the US every day from Mexico: many to go to work or school in San Diego.