London mayor shares racist hate mail in viral video
Comments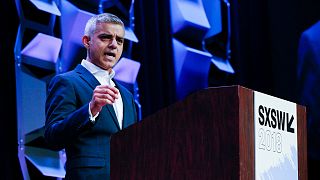 Muslim mayor Sadiq Khan has shined a spotlight on online abuse in a campaign video posted on his Facebook page.
In the three-minute film, the Labour politician reads racist and offensive messages sent to him on social media.
As he continues, the messages become more extreme and threatening.
Khan, whose parents hail from Pakistan, highlight's the role of Facebook, Youtube and Twitter in the spread of hate speech online and urges viewers to "#endthehate".
"Muslims have no dignity. I wish Sadiq Khan would just blow himself up like they all do. He might get his 12 virgins", reads one message from an anonymous user.
The video, posted on Monday, has been watched over 170,000 times and garnered 4,400 shares so far.
It was published as Khan was due to give a speech at the South by Southwest conference in Austin, Texas, where he called upon social media firms to take more action against hate speech online.
He added that abuse targeting minorities were putting them off politics.
In the video, he says: "I don't read this out to be portrayed as a victim, but I worry about what happens when young boys and girls from minority backgrounds see this kind of thing on their social media timelines or experience it themselves."
He goes on to cite electoral influence, "fake news" and "a rise in extreme propaganda" as "significant challenges" that have been brought by social networks.
"It's on all of us to tackle this problem. Social media companies, governments, politicians and media, and you," he says.