Women in Politics: How does Europe measure up?
Comments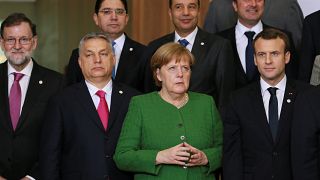 Gender parity in politics has become a hot topic in recent years. In many countries, women are vastly underrepresented in government: Saudi Arabia is the most famous example, having allowed female politicians to stand for the first time ever in 2015 – almost a century after the first woman, Jeanette Rankin, was elected to Congress in the United States. But the tide is turning.
More and more women are being elected as heads of state in Europe: Germany, Lithuania, Estonia, Croatia, Norway and the United Kingdom all have female leaders. But are they blips in European history, or a sign that permanent change is sweeping politics?
The answer is: it depends.
The Organisation for Economic Co-operation and Development (OECD) has gathered data on 71 countries around the world and ranked them according to the proportion of women who work as ministers (including deputy prime ministers, and heads of government with ministerial portfolios), and parliamentarians in the national lower or single houses of parliament.
Here's how Europe measures up:
Vive la France (and Iceland)
Steaming ahead of its European neighbours is France. As of 2017, women occupied more than half (52.9%) of ministerial posts, followed by Sweden (52.2%) and Slovenia (50%). It marks significant progress for a country which saw only a fifth of its positions taken up by women just five years ago.
In the lower houses of parliament, however, France loses its shine to Iceland. Women fill 30 out of 63 parliamentary seats (47.6%) on the Nordic island: A greater share than Sweden (43.6%) and Finland (42%).
In Paris, only 25.8% of parliamentarians were female as of mid-2017. At 25th place worldwide, it falls below the OECD average (28.8%) alongside Luxembourg (28.3%) and Poland (28%) on the list, but this could soon change.
According to the National Institute of Statistics and Economic Studies (INSEE), the percentage of female deputies rose to 39% after legislative elections in June, and the number of senators to 29%.
Hungary and Turkey lag behind
In Turkey, 96.2% of senior politicians are male and women fill just 14.9% of seats in parliament. The figures are poor, but the latter still represents a significant jump of almost half in 10 years, when just 9% of Turkish MPs were women.
Hungary, however, ranks the lowest in Europe and it seems unlikely to shift anytime soon. Women occupy no ministerial posts and just 10.1% of parliamentary seats in Budapest – a figure that has remained largely stable since 2002 (9.10%).
The issue may be a societal one. According to a gender equality survey conducted last year, 78% of respondents in Hungary felt the most important role of a woman was to take care of her home and family, and 87% believed women were more likely than men to make decisions based on their emotions.
But as more of them are selected as candidates and elected into office across its borders, it's possible that attitudes could change and Hungary could see its first ever female head of state in its history. Slovakia did it in 2010 with Prime Minister Iveta Radicova – why can't they?