Germany's ban 'could be Fukushima moment for diesel in Europe'
Comments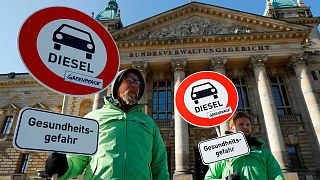 Germany's diesel ban could spark a wave of other European cities to follow suit and herald the take-up of electric cars, experts say.
The country's top administrative court has given German cities the green light to stop the most-polluting diesel vehicles from using their roads.
Hamburg said it would begin implementing limits at the end of April, while Stuttgart and Duesseldorf have also been told they should consider bans.
"We really do welcome it and we see potentially this could be the Fukushima moment for diesel in Europe," said Julia Poliscanova, an air quality expert at Transport & Environment.
"It's important for giving momentum to many other cities to really think seriously about whether these bans are the most effective way of stopping pollution from diesel."
Poliscanova said the German ruling could prove to be a key precedent for pushing cities to tackle particulate matter pollution, a key source of which is diesel engines.
EU air quality limits are currently breached in 130 cities in 23 EU countries.
Brussels has at least 30 cases open against member states over air pollution but many of them have been dragging on for years.
Environmental activists Client Earth, which worked on getting the ruling in Germany, says it will be important in getting the rest of Europe to comply.
Anne Heslop, a biomass lawyer with the law firm, told Euronews: "We use the outcomes that we get in Germany in other cases, for example in Slovakia, Italy and elsewhere in Europe.
"We will use these judgements and come to the other courts and say: 'Look the German court is willing to do this, so you have to do something ambitious as well'.
"We think it's a turning point. We think it's a very important ruling. And Germany is a huge country and they have a lot of diesel cars and with that, they have a lot of problems.
"It should have a really big effect on people's health when they start to exclude the most-polluting vehicles from the polluted areas.
"We know that air pollution from diesel cars can have a really bad impact on people who already have lung problems and it can exacerbate certain cancers. It causes slowing down of children's lung development that children will carry with them for the rest of their lives. It could have a really huge health impact."
Rome announced its own diesel ban for 2024 in the aftermath of the Germany decision, while Paris, Madrid and Athens their own prohibitions a year later.
Copenhagen's mayor wants to begin restrictions as earlier as next year. France and the UK will ban new petrol and diesel cars by 2040.
"I think the wider impact of the ban is to send a really strong signal and might really start the phase-out of diesel cars in city centres," added Poliscanova
"Because it's going to lead to a drop in their resale value and it really pushes consumers away from those cars.
"Citizens in cities especially are going to see a bigger turn away from diesel and a bigger uptake of electric vehicles.
"The problem of the uptake of electric vehicles is manufacturers are not supplying them on the market, they're not interested, there's no incentive.
"There's a massive lack of supply. And therefore consumers that want to buy an electric vehicle have to wait up to a year."