Disappointment for PSG after Real Madrid defeat
Comments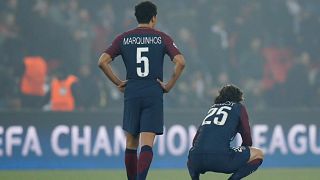 Disappointment for Paris St Germain after their early exit from the Champions League losing 5-2 on aggregate to Real Madrid.
The French media was unforgiving. "All that for this," wrote French sports daily L'Equipe on its front page, while injured Neymar took to social media to say how sad he was not to be able to be on the field helping his team mates athough he was proud of their effort.
PSG coach Unai Emery remained postive about his team's potential.
"It's certain we will continue and with patience we will build a team which can win in the future," he said. "When I first arrived here I was certain this team could win the Champions League, but it's a process which takes time, it won't be this year, but maybe next."
Some of the players felt they had left themselves down.
"`We are sad, as is normal, because of the result, because we did not qualify but also because of the game we played tonight," said PSG's Thiago Motta. "I think we are capable of playing better than we did."
PSG spent €400 million this summer on Neymar and France international Kylian Mbappe which have helped them recover their place at the top of Ligue 1.
But it seems buying top flight players is not the answer to the team's more fundamental problems.