Lamborghini's CEO reveals all about the secret of success
Comments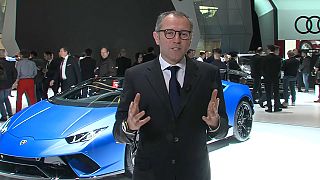 Euronews' Claudio Rosmino spoke to Lamborghini CEO Stefano Domenicali about the Italian firm's plans for the future.
euronews: There are many expectations about Lamborghini, can you anticipate what the visitors will see in your stand? What are the highlights?
Stefano Domenicali, CEO of Lamborghini: "The highlights will be with the 'Huracán Performant' spider. It's the new member of our family, that this year is completling the offer in the supersport car sector; but on the top of that, at the Motor Show, there will be a première of our new super SUV 'Urus', that is behind me, that is having an incredible success"
euronews: 2017 was another record-breaking year in terms of sales for Lamborghini, what is the target of production in the years to come and in which direction are you going to invest?
SD: "We are expecting to be over the 5000 unity this year while we are going to double our dimensions (number of cars) in 2019. So it is really a great moment for our brand, a great moment of growth, not only in terms of numbers - last year we have overtaken one billion of euros as turnover - but mainly for the perception."
euronews: Where is your best market?
SD: "Our best market, so far, it is United States, one third of the sales are there, the second market is Japan, the third market is UK, than the other markets are very close."
euronews: What are your plan towards electric or hybrid cars ?
SD: "The next practical step will be, of course, the hybridisation. Hybridisation will be in any case connected to our traditional very strong engines, that are V12 and V10.
euronews: How does Lamborghini still maintains its Italian style, even if it's held by Volkswagen and Audi group?
SD: "Very simple. One thing is the money, that is connected to our investors and shareholders, that are strong, and this is very important for us. Another thing is that our car assembly plant is in Sant'Agata Bolognese (north-east Italy). It is a true Italian company with a heritage that will stay also for the future in our country."