Belgians get free iodine pills in case of nuclear disaster
Comments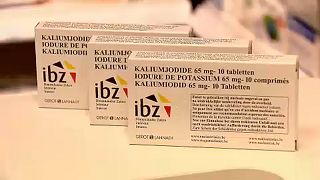 Belgium's offered singled out for the state of its nuclear power plants. Now the federal government's handing out free iodine tablets to all those resident, to use if the worst was to ever happen.
In the event of a nuclear accident or a terror attack, the tablets can help limit the effect of radiation.
"This is the launch of the campaign now, and I must say that I've had a lot of interest in the past few hours," said Didier Ronsyn, a Brussels pharmacist.
The pills are being handed out on the basis that they're taken if, and when, the authorities raise a formal alert.
But one pharmacy customer was cautious: "I think it's a good idea just to have them just in case. I think I need to probably to read a little bit more about it, what the side effects are. If it's really necessary of if it's a scam."
Another added: "It won't change anything. I think as a precaution, it won't be enough now. If there is a nuclear accident there will need to be a lot of other measures. It's true that if people already have iodine at home, it's a plus."
Nuclear power stations are dotted all over Belgium and the pills are being given to everyone within a 100 kilometre radius of one. That effectively means the whole of Belgium is covered.