César Awards: AIDS activist film triumphs in France
Comments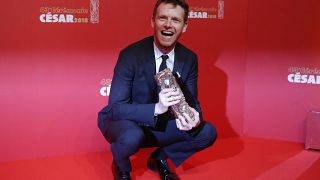 The 43rd annual César film awards took place in Paris on Friday night, with '120 Battements Par Minute' ('BPM' or '120 Beats per Minute') winning six awards, including those for 'Best Film' and 'Best Original Screenplay'.
Set in France during the 1990s AIDS epidemic, the film follows a group of activists as they try to force the disease to the forefront of the public's attention.
The film was also awarded the César for 'Best Editing' and 'Best Original Score' and two members of the cast - Antoine Reinartz and Nahuel Pérez Biscayart - picked up awards for 'Best Supporting Actor' and 'Most Promising Actor' respectively.
The absent Albert Dupontel was handed the gong for 'Best Director' for his film "Au Revoir là-haut" ('See You up There'), a World War One epic in which the two protagonists struggle to connect over anything but bloodshed.
The film was another to be honoured multiple times and took home awards for 'Best Adaptation' and 'Best Cinematography".
Jeanne Balibar was 'Best Actress' for her compelling performance in the biopic of celebrated French singer Barbara.
And 'Best Actor' was Swann Arlaud for his portrayal of a dairy farmer in 'Petit Paysan'. ('Bloody Milk').
When one of his cows gets sick, his character will stop at nothing to save the rest of the herd.
Unlike the 'Golden Globes', stars didn't dress in black to show solidarity with vicitms of sexual misconduct. Instead, they wore a small white ribbon to the ceremony.