UN report says Pyongyang provided materials for chemical weapons in Syria
Comments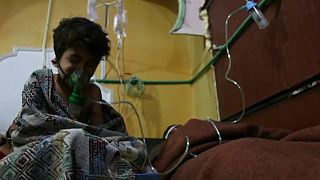 -
Copyright

Reuters/Eyewitness
The United Nations says it unaware of the details of a leaked report that links North Korea to chemical weapon use in Syria.
The New York Times says Pyongyang shipped materials to Damascus that could have been used for both military and civilian purposes.
In response, the UN Secretary General's spokesman said all countries have a duty to follow rules against the development and use of chemical weapons.
"We do not have the report. I don't know about its publication date if any. I think the overarching message is that all member states have a duty and a responsibility to abide by the sanctions that are in place," said Stephane Dujarric.
The UN spokesman also said that shelling between rebels and government forces in Syria had not stopped, despite a UN-ordered ceasefire, and it was not safe for relief crews to get humanitarian and medical aid into East Ghouta and other parts of war-ravaged Syria.
Syria and North Korea have long-established military ties, but Damascus has denied fresh claims its forces have been using chlorine.
The 200-page leaked report by UN experts alleges North Korean missile specialists have been spotted at Syrian weapons-making facilities. Diplomatic sources say they expect the full findings to be released next month.