Suspicious substance in letter afflicts 11 at US marine base
Comments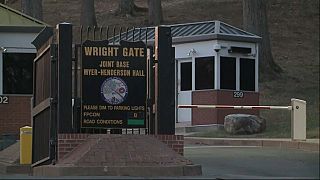 A security scare has been reported at a US military base in Arlington, Virginia.
Eleven people have fallen ill and three have been taken to hospital after an envelope containing an unknown substance was received at an administrative building at Joint Base Fort Myer-Henderson Hall.
A hazardous materials team was dispatched and the building evacuated.
The sick are said to have come down with nosebleeds and burning hands after the letter was opened.
The three people in hospital are said to be in a stable condition.
A law enforcement official said harmful substance tests on the letter came back negative, but it has been passed to the FBI for further analysis.
He added that the letter was addressed to a commanding officer at the base and contained derogatory, sometimes unintelligible language.
The relationship between the sender and commanding officer is being investigated.