The designer food halls catering to Italy's poor and deprived
Comments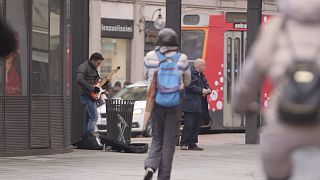 Italy is a two-speed country. Milan is a perfect example: on one hand a financial giant and city of excellence, on the other it's littered with poverty and despair.
Over the last 35 years, income inequality in Italy has increased more than in any other OECD country (Organisation for Economic Cooperation and Development).
According to the Italian Ministry of Labour and Social Policies, poverty comes not only from the lack of an income but also from the low likelihood of taking part in the country's economic and social process.
Caritas Ambrosiana of Milan is taking a global approach to new forms of poverty in Italy.
About three years ago the refectory of Piazza Greco was born. It is an extraordinary canteen for poor people.
Here the meals are prepared with surplus food from markets.
In Milan, in the four years between 2008 and 2012, people who asked for food packages in help centres increased by about a third.
Nationwide, 25% of all food bought every week is thrown away which means 1600 euros per family per year.
The canteen has 100 places for poor people who are actively reintegrating into society. For example, by applying for jobs.
"This wants be a place that nourishes not only the body, with good dishes, made with the surpluses we receive every day, but also a place of good relations, a place where a person finds new self-confidence, gets the opportunities that life has not given him or her until now and with the help of our volunteers he or she tries to find his or her way,"sociologist Luciano Gualzetti told Euronews.
The refectory has been described as a place of excellence and beauty. Fixtures and furnitures have been donated by leading Italian and international designers – from tables, to chairs to lights.
There are also remarkable works provided by contemporary artists.
Beauty is only the first step to see beyond one's state of deprivation.
"Caritas has learned, thanks also to the crisis, to face these issues in an integrated way. It is not enough to give to feed, it is also necessary to provide a bed, to activate a real path towards autonomy," said Gualzetti.
"For the first time in our history, a job is no longer a way out of poverty… we see precarious jobs, badly paid and unprotected ones."