Nemtsov march draws thousands to Moscow
Comments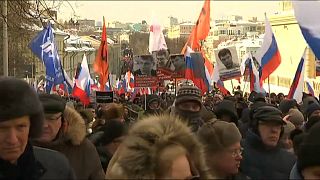 Thousands of people have marched through central Moscow to mark the third anniversary of a murdered Russian opposition leader.
According to White Counter, an NGO that counts participants at rallies, around 7,600 people took part in the Moscow march for Boris Nemtsov, which organisers had been granted permission by the city authorities.
People gathered despite temperatures descending to minus 14 degrees Celsius. Many carried Russian flags and portraits of Nemtsov. Chants of "Russia without Putin" could be heard.
Several hundred people also ralled in a central square in St Petersburg, chanting "Russia will be free".
Who was there?
Ksenia Sobchak, another contender for the March election where Putin is widely expected to win, also took part in the rally.
Opposition leader Alexei Navalny was also present, according to the media. He has been barred from running in the March election.
Who was Boris Nemtsov?
Boris Nemtsov was one of President Vladimir Putin's most vocal critics. He was shot dead on February 27th, 2015 as he walked across a bridge near the Kremlin,
The 55-year-old had been working on a report examining Russia's role in the conflict in Ukraine.
Who was he killed by?
In mid-2017, a Russian court sentenced Zaur Dadayev, a former solider in Chechnya, to 20 years in jail for killing Nemtsov. Terms of between 11 and 19 years were handed down to four other men convicted of being his accomplices.
But Nemtsov's supporters said Dadayev and the others were only low-level operatives. The case remained unsolved, they said, because those who had ordered, financed and organised the hit had not been caught.
Some blame Vladimir Putin for Nemtsov's death. However, he has never responded to the accusations. In 2015, he said the murder had a "provocative nature" and that he was closely watching the investigation process.
What they are saying
"Nemtsov's murder is a political act of terror. All the responsibility for the murder is on Putin," - presidential candidate for the Yabloko liberal party, Grigory Yavlinsky, told Dozhd TV in a live broadcast from the march.
"We must make sure that those who ordered and organised the murder are detected," - Russian opposition politician Mikhail Kasyanov said at the march.
"If our country was ruled by people like Nemtsov, we would live in a normal European country with free and independent people. That's why I am here now," - marcher Andrei Biryukov from Moscow, carrying a sign saying "I'm not afraid."
On Social