Operation Sanctuary: UK told to change its laws on sex exploitation
Comments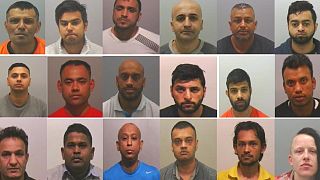 -
The UK is being urged to review its laws on sexual exploitation.
The recommendation comes from the official who led a review into Operation Sanctuary. 18 people were jailed for sexually abusing young women they had groomed in the northern city of Newcastle-upon-Tyne.
David Spicer says exploitation is not being recognised in adults - and it should be.
It is clear "adults are being targeted, groomed and exploited" as well as children, he said.
However, authorities did not have the power to intervene with adults to stop them "making bad choices" or "forming inappropriate relationships".
Main recommendations
Health workers like pharmacists should be trained to spot signs of abuse

The cultural backgrounds of alleged abusers should be researched

Treatment of victims during court hearings should be reviewed
Has the government said anything?
Yes. Officials say they will "look carefully" at the report's 33 recommendations.
A spokesman said: "These are abhorrent crimes that have had a devastating impact on the lives of the victims involved."
Cultural backgrounds - a sensitive issue
The recommendations also include a sensitive issue - the need for research into the cultural background of abusers.
Many, in the case of Operation Sanctuary, were from a "predominantly Asian or British Minority Ethnic culture or background."
The operation identified about 700 victims in total across the Northumbria Police area, 108 in Newcastle.
David Spicer said the government needs to research the "profiles, motivations and cultural and background influences of perpetrators of sexual exploitation".
In the Newcastle case, most of the men were British-born but all came from Bangladeshi, Pakistani, Indian, Iraqi, Iranian or Turkish communities.
Research from the counter-extremism think-tank the Quilliam Foundation suggests 84% of the 264 offenders convicted of grooming between 2005 and 2017 were of South Asian heritage.
However, the report noted there was no evidence that "misplaced" concerns over political correctness or allegations of racism meant police and other agencies were reluctant to investigate.
What was Operation Sanctuary?
It began in 2014 after a 21-year-old woman with a learning disability told police she had been subject to sexual exploitation over a long period of time.
Further reports from victims suggested sexual exploitation was a much larger problem in Newcastle-upon-Tyne "than previously thought."
What they are saying
"Vulnerability is not determined by age and it is likely that extensive abuse of vulnerable adults is taking plac across the country unrecognised," - David Spicer