Madrid local calls police on Puigdemont look-alike comedian
Comments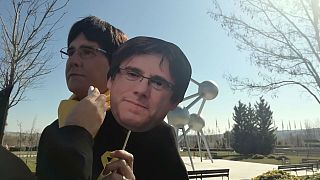 -
A Madrid local did not think twice about calling the police when he thought he saw Carles Puigdemont waving a Catalan flag in Parque Europa.
However, it was not the real Puigdemont he caught in flagrante but Spanish comedian Joaquin Reyes dressed as the former Catalan premier, now living in exile, filming his latest sketch in front of the park's replica of the Brussels Atomium.
Six policemen showed up to arrest the Puigdemont look-alike. But when they realised it was Reyes they simply laughed and soon left.
However, the local man was not amused. Reyes told Spanish daily El Pais they later tried to explain that they were shooting a parody for TV, to which he replied the situation was "not for jokes".
The comedian wondered if the man may have thought Puigdemont had arrived back from Brussels and gone to Parque Europa to think about his next move.
Impersonating politicians is one of the Reyes specialties. He's impersonated Marine Le Pen, Nicolas Maduro, and Mariano Rajoy in the past for his TV programmes.