Strong emotions as Florida shooting families meet Trump
Comments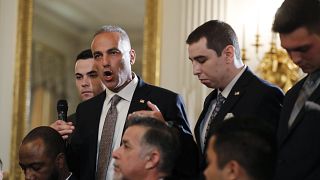 Emotions ran high at an hour-long White House meeting between US President Donald Trump and those caught up in last week's Florida shooting tragedy.
Survivors and bereaved relatives spoke of their anguish and pain and pleaded with the President to take action to keep schools safe in the future.
One of the most impassioned voices belonged to the father of teenager Meadow Pollack, one of the 17 people killed in last week's massacre.
The 18-year-old had been headed to university but is now mourned by family, friends and classmates.
"I didn't think it was going to happen to me," Andrew Pollack told Trump.
"And I'm pissed because my daughter,  I am not going to see again," he shouted.
"She is not here! She is not here! She is in North Lauderdale, at whatever it is, King David Cemetery. That is where I go to see my kid now!"
Parkland school shooting survivor Samuel Zeif sobbed as he called for a change to the gun laws.
"I don't understand why I could still go into a store and buy a weapon of war - an AR," he said.
"I was reading today that a person, 20-years-old, walked into a store and bought an AR-15 in five minutes with an expired ID. How is it that easy to buy this type of weapon? How do we not stop this after Columbine, after Sandy Hook? I am sitting with a mother that lost her son! It is still happening!"
Zeif was sitting alongside Nicole Hockley whose six-year-old son Dylan was one of 20 children and six members of staff killed in the shooting at Sandy Hook Elementary School in Newtown, Connecticut in December 2012.
The father of a survivor told Trump how his son had contacted him from the scene of the Parkland shooting.
"Justin was texting me, hiding in a closet, saying: 'If something happens, I love you. If something happens, I love you' and you can't imagine what that is like, as a parent. And then his phone died and I didn't know what happened for another hour," said Cary Gruber.
Wednesday's meeting with Trump began with a prayer. All those affected will be hoping that their tragedy will mark a turning point, as the last US school massacre.
with Reuters