'Archaic' definitions of the word 'feminine' not confined to English
Comments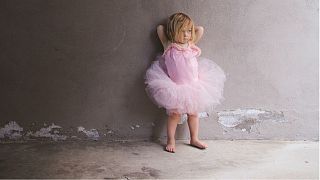 A US woman wrote an open letter to the owners of thesaurus.com pointing out that synonyms for the word "feminine" were lacking compared to "masculine".
"There are so many positive attributes to 'masculinity' but seemingly none about 'femininity' other than how soft and dainty we are," Kaya Day, 24, wrote.
Thesaurus.com said it will review its entry for "feminine" following the letter.
The Oxford English Dictionary definition of the adjective "feminine" is: "Having qualities or an appearance traditionally associated with women, especially delicacy and prettiness."
And its example of how to use the word is: "The snowdrops gave a feminine touch to the table."
Some, like Day, argue that this English definition is archaic but how does it compare to other Euronews languages?
Hungarian
The word "feminin" in Hungarian is generally used in a derogatory manner. This is reflected in the MEK dictionary, which partly describes the adjective as a man who has a "feminine face, individuality, character, character, appearance, nature".
Russian
The Ozhigov dictionary defines "женственный" as a "set of characteristics traditionally applied to women". Those characteristics are "sensibility, tenderness, elegance, readiness for a sacrifice, compassion".
German
The Duden's three-point definition of the word "beispiel" includes the fact of "emphasising something womanly" but also has a whole point dedicated to the derogatory use of the word: "Not to possess the characteristics of a man, not manly, too soft/weak, effeminate".
Italian
"Femminile" in Italian dictionaries has a broad description — partly an arguably outdated definition of "women's attitude, feminine grace | traditionally reserved for women's work: feminine jobs" and also the racier "highlighting women's femininity, sexual appeal: very feminine dressing".
Portuguese
Other languages with masculine and feminine gender forms take a similarly factual approach to describing femininity. The Portuguese language's Priberam defines masculine "feminino" and feminine "feminina" as: "Gender of words that indicates female or what is not considered as masculine."
Spanish
The Spanish language's dictionary RAE has a detailed seven-point definition of "feminino/feminina," none of which refers to being dainty, tender or ladylike. One point describes the adjective's definition for a "being" as: "Gifted with organs to be fertilized."
French
French dictionary Larousse defines the adjective "féminine" solely as: "Something which is generally attributed to women."
Persian
The Dictionary of Dehkhoda uses a factual definition for the "زنانگي" and "زنانه" describing the adjectives as "all related to woman/femininity/womanhood/particular to women".
Arabic
The definition of مؤنث، أنثوي، نسائي in the Lissan Al Arab via Al Maany dictionary offers the synonyms "beautiful," "delicate" and "classy," but also "not strong enough". By means of definition Arabic is more factual than English — adjective related to women, qualities, appearance, behaviour — but also lists the pejorative meaning describing a male who does not behave like men.