Chicken emergency: Police called over KFC closures in UK
Comments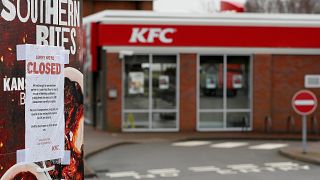 Fried chicken is "not a police matter!"
That is the message from officers in London and elsewhere in the UK who have been contacted by fast food fans in a flap over a shortage of their favourite snack.
The KFC chain has closed hundreds of its British restaurants, blaming a new delivery partner for supply issues.
It has ruffled feathers so much that some have called the Metropolitan Police, prompting this plea from the force not to contact them.
Politicians, too, are being approached, with opposition Labour MP Neil Coyle tweeting that he has been contacted by "disappointed KFC customers".
Of course, most peckish punters are not taking such drastic steps, but many are angry.
"Absolutely unbelievable," lamented one man outside a closed restaurant in Exeter in the southwest of England.
"How can you run out of chicken at the KFC?"
"Well, I don't look sad but I really am disappointed," a little girl said, in front of another KFC hit by the shortage, this time in east London.
"I'm mad at KFC. I mean look at them! They are just chilling. They are happy," she said, looking inside the branch.
"Sorry, we are mad with them!"
KFC says more than half of its UK outlets are now open but that won't stop teasing on Twitter, which has been relentless.