Lithuania's 100 years of independence
Comments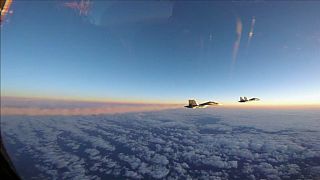 In commemoration of a hundred years since Lithuania's independence, President Dalia Grybauskaite welcomed President of the European Council Donald Tusk to the country.
She handed him a letter on common priorities in the new multi-annual financial framework of the EU signed by the heads of the Baltic states.
The new EU budget looks to connect Europe with modern energy and transport links and ensure funding for strategic projects, including the synchronization of power grids and Rail Baltica.
Dalia Grybauskaitė said; "The letter is about our hopes and expectations in the new multi-annual financial framework, taking into consideration Brexit and new challenges."
Alongside fellow Baltic states Latvia and Estona, Lithuania has increased defence spending in recent years.
President Grybauskaite also said her country's "protected and respected like never before".
But there remains concerns over a reasserted Russia, with capital city Vilnius recently accusing Moscow of deploying nuclear ballistic missiles to one of its Baltic bases.