One in 6 children now lives in war zones, report reveals
Comments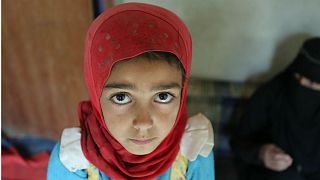 Copyright

Save the Children
The number of children living in conflict-affected areas has now reached 350 million, a Save the Children report found.
This is an increase of over 75 per cent since the early 90s.
More than half (165 million) of these children are living in places with high-intensity conflicts.
What are the reasons behind this increase?
"Part of the reason is that we are seeing more conflicts today—more conflicts that are going on for longer," Caroline Anning, a Senior Conflict & Humanitarian Advocacy Adviser at Save the Children told Euronews.
"We're also seeing them happening in more populated areas," she added, "the conflicts in Syria, Yemen, Iraq, a lot of them are happening in towns and cities where there are lots of children living."
The ten worst places for children trapped in conflict
For Anning, the three worst places to be a child trapped in conflict named in the report, Syria, Afghanistan and Somalia, are not surprising.
"The conflict in Syria has set new lows in the conduct of hostilities," she told Euronews, "we've seen huge rates of schools being attacked and the use of indiscriminate weapons like barrel and cluster bombs are being used in areas where children are living".
Following these three were Yemen, Nigeria, South Sudan, Iraq, the Democratic Republic of the Congo (DRC), Sudan, the Central African Republic (CAR).
These conflicts have all been included on the list for different reasons, according to Anning.
She said the conflict in the DRC is a protracted conflict and has been devastating for children across decades.
"We don't see the widespread use of explosive weapons in populated areas, where we do in Syria, but what we do see is high rates of violence against children and use of child soldiers."
What atrocities are children facing in conflict zones?
Hardships that children experience vary across different areas.
The Save the Children report considers the UN's Six Grave Violations against children: Killing and maiming, use of children as soldiers, sexual violence, abduction, attacks on schools or hospitals, denial of humanitarian access.
Anning said there were "peaks" of certain violations in different zones.
"In Syria, children are very at risk of bombing and shelling, of their homes being attacked," she said. "It's a similar story in Yemen but in Yemen, they are very at risk of denial of humanitarian access too."
"There is a whole range of factors that are coming together to put children in the biggest jeopardy we've seen for more than 20 years," said Anning.
What can be done?
Save the Children are targeting the Munich Security Conference where they believe the military and political leaders who have the ability to enact change will gather.
"We want it (the report) to act as a starting point on four key pillars," said Anning.
Those pillars include concerted action, upholding of international laws and standards, intensified action to hold violators to account and an increased effort to rebuild the lives of children shattered by conflict.
"We all have to make a conscious effort, whether it's in the media, across government or aid agencies to set a line and say what is and isn't acceptable in the treatment of children," concluded Anning.