A Boston Dynamics robot can now open doors
Comments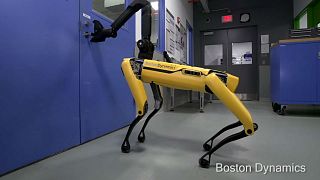 In a scene reminiscent of the dystopian TV show Black Mirror, leading robotics designers Boston Dynamics has built a robot that can open doors.
In a video titled "Hey Buddy, Can You Give Me a Hand?" one of the US company's four-legged robots looks up at a closed door, unable to open it.
A more advanced machine then appears and uses a claw-like arm to twist the handle and let his colleague out.
This is just the latest upgrade from Boston Dynamics, founded in 1992, to their "SpotMini" robot, which was designed to navigate and negotiate rough terrain.
The company has also published videos of their humanoid robots jumping between raised blocks, running and balancing on one leg.
It designed the "BigDog" quadruped robot in 2005 for the US military.