Low flu vaccine uptake puts Europe at risk
Comments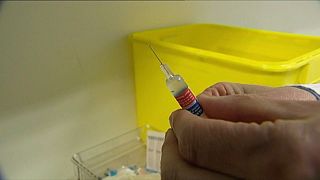 Half of European countries are vaccinating less than one in three older people against Flu. Far lower than the 75% uptake the World Health Organization is targeting.
The WHO and European Centre for Disease prevention released their findings from a long running study which shows that flu vaccination coverage has been falling in the Europe for the past seven years. They say it jeopardises the capacity to protect people during annual epidemics and the next pandemic.
Older people are most at risk, with an estimated 44,000 people dying annually from respiratory diseases associated with seasonal influenza in Europe and 650,000 deaths across the world.
A number of factors are thought to behind the drop in demand from vaccine shortages and complacency, to a lack of confidence in the effectiveness of the dose and costs.
Uptake is even low among medical professionals, sitting below 40%, while the WHO it should be 100%.
Doctors in the UK cited a number of reasons for the figures including the limited effectiveness of the vaccines in the past due to the constantly changing strains of the virus. Therefore many people might not risk a day of cold-like symptoms.
But a hospital in South-west England managed to achieve an almost 100% staff uptake simply by offering a free cup of coffee.