Wall Street recovers after two days of heavy losses
Comments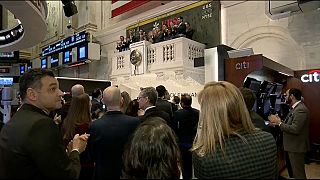 U.S. stock markets have rebounded into positive territory after opening down more than 1 percent, following two days of heavy losses.
The Dow Jones sank by 4.6 percent on Monday, its biggest falls since August 2011, as concerns over rising U.S. interest rates and government bond yields hit record-high valuations of stocks.
Wall Street's plunge sent shudders across global financial markets.
London, Frankfurt and Paris saw losses of up to 3% while Japan's Nikkei ended with a near 5% drop, its worst fall since November 2016.
By mid-morning trade on Tuesday Europe's main bourses were recovering some ground, being down by just under 2 percent.
After US shares rebounded the FTSE 100 perked up to about 1% lower.
Germany's Dax and France's CAC are on similar trajectories, having recuperated to trade at around 1.6% lower.