Turkey's religious chiefs brand left-handed eaters as 'demons'
Comments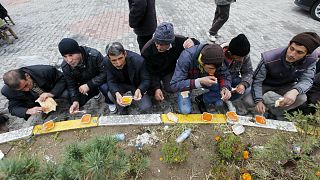 Turkey's top religious authority has sparked a debate by suggesting people who eat with their left hands are "demons".
Diyanet — the country's directorate of religious affairs — made the claim in a question-and-answer section on its website.
"Establishing general principles regarding eating and drinking, the Prophet Muhammad did not regard eating with the left hand as pleasant," the Muslim authority said in response to a question on eating habits.
"Indeed, he attached great importance to this issue and warned his community that demons eat and drink using their left hand. He therefore advised children to use their right hand when they eat or drink."
The response went on to say that eating with the left hand was acceptable for people with physical disabilities.
Diyanet is part of the Turkish state but its fatwas or edicts to not have any legal power.
But the authority's prominence has grown in recent years, despite Turkey's history of promoting secularism. Its budget has quadrupled under the ruling Justice and Development Party (AKP), whose leader is Turkey's president, Recep Tayyip Erdogan.
In its reply about left-handed eating, Diyanet quoted 8th-century Islamic scholar Muhammad al-Bukhari, who would have been writing when most people ate with their hands and before the widespread introduction of knives and forks.
Societies — such as in Turkey and India — have traditionally opposed using the left-hand to eat for hygiene reasons because it's also used when going to the toilet.
Diyanet sparked controversy last month by saying under Islamic law girls as young as nine could marry. It prompted opposition MPs to demand that the government launch an investigation into child marriage in Turkey.
Social media reaction
Twitter users were critical and expressed surprise at Diyanet's response. But the authority was defended by one person, who said it was just relaying the words of the Prophet Muhammad.