Smoking isn't taboo in Japan — changing that is an Olympic effort
Comments
By Daniel Hurst with NBC News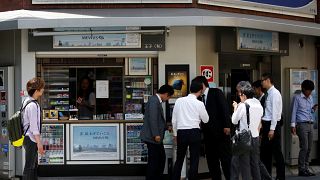 TOKYO — The scent of chicken skewers cooking over a charcoal grill mixes with another distinctive odor — cigarette smoke from a handful of white-collar workers unwinding after a busy day at the office.
This scene plays out in small bars across the Japanese capital, where many restaurants and watering holes still allow their customers to smoke.
But lawmakers here are coming under pressure to implement tougher restrictions against passive smoking before Tokyo hosts the 2020 Summer Olympics, with the World Health Organization and the International Olympic Committee leading the calls for broad bans in public spaces.
The health ministry estimates that about 15,000 deaths in the country each year are linked to second-hand smoke. But the habit has proved tough to kick.
Anti-tobacco campaigners have a theory about what's behind the government's reluctance to take strong action against smoking. Japan's finance ministry still holds a one-third stake in the ownership of Japan Tobacco, the country's biggest seller of cigarettes. That means a portion of the firm's profits flow into in the government's coffers.
"We certainly deem it a conflict of interest," said Dr. Manabu Sakuta, chairman of the Japan Society for Tobacco Control, who estimates that only about 10 percent of restaurants in Tokyo are currently smoke-free.
Japan Tobacco confirmed that it had paid the government a total of 86.7 billion yen (about $798 million) in dividends in the year that ended March 2017. Despite being battered by a 12.5 percent decline in the number of cigarettes sold in Japan last year, the company has been working to expand its global footprint. Japan Tobacco now gets most of its revenue from its international operations and expects to pay its shareholders even higher dividends in the year to March 2018.
A Japanese language section of the company's website also questions whether second-hand smoke causes disease in nonsmokers. When asked about this, Japan Tobacco's general manager of media and investor relations, Masahito Shirasu, doubled-down.
"Don't go for a law which won't help."
"Yes, based on the current science, we do not believe the claim has been proven that second-hand smoke is a cause of diseases such as lung cancer, coronary heart disease, emphysema and chronic bronchitis," Shirasu said.
It seems such views are shared at the highest levels of government. Japan's finance minister, Taro Aso, caused controversy last year when he questioned the link between smoking and lung cancer.
Prime Minister Shinzo Abe has vowed to address the issue over the coming months.
"We will take thorough measures to tackle passive smoking, with our sights set on the Tokyo Olympic and Paralympic Games two years from now," he said during a policy speech at the opening of Parliament last month.
But so far the signs are that any smoking bans will be far from comprehensive.
Japan's health ministry was originally working on a plan to prohibit smoking at all restaurants, except small ones with a floor space of up to 322 square feet.
After facing resistance from business operators and lawmakers from the ruling Liberal Democratic Party, however, the ministry watered down the plan. Recently, it has been looking at allowing customers to light up at any restaurant with a floor space of up to 1,615 square feet, according to local media reports.
Sakuta, of the anti-smoking group, described the revised proposal as "totally unacceptable for us."
Dr. Vinayak Prasad, who heads the WHO's tobacco control program, could not hide his exasperation when asked about these potentially broad exemptions.
"I would say don't even have this law, which they're moving, if it's going to be with such kinds of carve-outs," he told NBC News in an interview. "It's not helpful. It's not going to protect the nonsmokers. Don't go for a law which won't help."
He added, "What I don't get, after eight years of working in tobacco control at a global level … is how such an evolved nation is finding it difficult to prioritize health over commercial trade business interests."
Japan's smoking rates have fallen sharply over recent years, with a more pronounced gender divide than other developed nations. About one-third of the male population over 15 smoke cigarettes, according to WHO data from 2015, which reflects a significant decline from the 51 percent rate in 2000. The female smoking rate dropped to 11 percent from 14 percent over the same period.
"Some foreign tourists say that Japan is the only country you can enjoy both drinking and smoking together"
By comparison, one-fifth of American males over 15 — or 19.5 percent — smoke, while 15 percent of similarly aged females do.
Japan Tobacco's Shirasu called on legislators to "respect people's freedom of choice."
"We agree with measures or provisions to prevent people from unintended second-hand smoke as we have been striving to promote 'Bun-en' — an environment where smokers and nonsmokers can coexist in harmony," he said in an email. "However, we disagree with unbalanced, excessive and uniform regulations, without considering various opinions or difficulties tenant owners would face."
Meanwhile, amid regulatory inaction, some business operators have voluntarily gone smoke-free in response to shifting consumer preferences.
"It is an era when reservations for nonsmoking seats are overflowing," said Sachiko Inamura, head of the secretariat of the Japan Izakaya Association, a network of Japanese-style taverns where liquor and food is served.
"I think that the relationship between tobacco and izakayas has been changing with the times."
One of the charms of Japan's izakaya culture, she said, is that there are many small venues with only a limited number of seats, meaning that the proposal for broad carve-outs from a national smoke-free law would leave many izakayas exempt.
"There are establishments that support smoke-free initiatives and also others that do not support them," Inamura said. "So long as there are smoking spots near the shops then the introduction of smoke-free policies will not have much of an impact."
Bar Asyl, a small bar in the heart of Golden Gai in Tokyo's bustling Shinjuku district, has adopted something of a hybrid policy.
"Some foreign tourists say that Japan is the only country you can enjoy both drinking and smoking together, so for smoking people it's kind of the biggest charm," said Yasuyuki Abe, the bar's operator who is known to regular customers by his nickname, "Abe-chan."
With the door closed for the winter, he generally does not allow smoking as he is concerned about ventilation. "But if there is only a regular smoking customer in the bar, I tell him, 'You can smoke till the other customers come,'" he said.
"I think the new law will allow small bars to have smoking. But if smoking in small bars is prohibited, the law will damage the business."
Tobacco control advocates are looking for Tokyo's governor, Yuriko Koike, to impose tougher city-wide regulations than appear achievable at the national level.
"A total indoor smoking ban is the basic trend of host cities of the Olympics," Koike said last year, while leaving room for exemptions for small venues. The details are yet to be finalized, but she aims to introduce the city ordinance a year before the Olympics, when Japan gears up for another major international event, the Rugby World Cup.
One thing is certain: At least within the Olympic venues and public areas of the Olympic Village, smoking will be banned in line with IOC rules. However, Olympic officials hope the games will serve as a catalyst for such anti-smoking measures to be rolled out in other public areas, including bars and restaurants.
"For the protection and health promotion of all visitors to the games and to protect them from passive smoking, the IOC strongly encourages the regional and national governments to implement legislation to prohibit smoking in all public spaces," an IOC spokesperson said.