Cancer survival rates 'improving across Europe'
Comments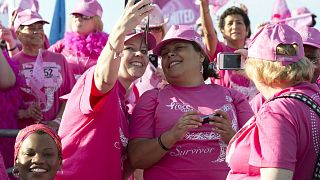 The share of people surviving deadly cancers has gone up across Europe, a new study has claimed.
The paper, published in the Lancet ahead of World Cancer Day on Sunday, February 4, shows more Europeans are beating the disease.
It says 85.6% of those with prostate cancer in Denmark survived between 2010-14, up from 63.6% a decade earlier.
Lithuania's breast cancer survival rate is now nearly three-quarters of affected women, up from around two-thirds in the 2000-04 period.
That reflects a general upward trend in the EU countries studied: 82.8% beat the cancer, compared with 75.8% at the beginning of the century.
Even deadlier cancers - like tumours in the lungs or liver - are not killing the same share of people as before.
Latvia, where 20.4% survived lung cancer, has one of the best figures in Europe, while Ireland has seen the best improvement.
Survival rates for liver cancer, meanwhile, show wide disparities across EU countries, from 20.7% in Belgium to just 4.2% in Estonia.
The improvements in beating the disease come despite an increase in the proportion of people being hit with malignant tumours across the continent.
Estonia, Czech Republic and Serbia have seen the biggest increases in the share of cancer sufferers per 100,000 of population since 2005, according to latest data from the World Health Organization (WHO).
Globally, cancer cases will rise by 70% over the next two decades, adds WHO. It is already the second leading cause of mortality and was responsible for killing 8.8 million people or one-in-six deaths.
Experts say deaths from the disease are down to obesity; lack of physical activity; low fruit and vegetable intake; and high use of tobacco and alcohol.
But it is also driven by ageing populations in some parts of the world: cancer risk increases the older we get.