Amazon patents device that could track workers' hand movements in real-time
Comments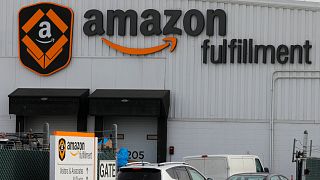 Amazon has been issued with patents for a wristband that can track its wearer and vibrate to guide their hands in a specific direction.
The retail giant applied for the patents in 2016, but they have only just come to light after being granted on January 30th.
The patents cover bracelets that can emit ultrasonic sound pulses or radio transmissions to alert a receiver system as to where workers hands are in relation to inventory bins.
When heading for the right bin, signals can be sent back to the bracelet, setting the band abuzz with "haptic feedback" to let the wearer know they are heading in the right direction.
According to the patent, the device would save workers time when collecting and distributing products.
It is thought they could be worn by workers in Amazon's vast fulfillment centres, of which there are 70 around the world.
The bracelet tracking technology has raised moral questions about privacy, as they could monitor workers' efficiency in real-time.
And Amazon has faced fierce criticism in recent years for setting high targets, timed-toilet breaks and packing timers to ensure workers pack enough boxes per hour.
Last November, an undercover reporter working in an Amazon warehouse in Essex, England, found workers faced the sack if they could not pack at least two items per minute.
In response, Amazon told the Mirror newspaper: "We offer great jobs and a positive environment with opportunities for growth. As with most companies, we expect a certain level of performance.
"Targets are based on previous performance achieved by our workers. Associates are evaluated over a long period of time as we know a variety of things could impact the ability to meet expectations in any given day or hour."