Property for passports? How Russians have given Cyprus a boost
Comments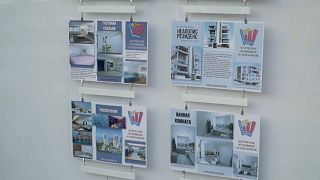 It is the paradise island in Europe which has not suffered from deteriorating relations between Moscow and the West. Quite the opposite.
Cyprus is home to thousands of Russians seeking sun, tax benefits and an EU entry point. The biggest spenders on property can even apply for a Cypriot passport and therefore EU citizenship.
It is a controversial scheme but a lawyer working in the field told Euronews it has all helped the economic recovery in Cyprus since 2013.
"Some 4 billion euros have entered the Cypriot economy, through these programmes," explained lawyer Dimitris Dimitriades.
"It's a significant amount which represents at least 20% of the country's GDP."
Critics however say that Cyprus has failed to carry out due diligence in relation to applications and that the scheme raises security concerns.
These are fears the island is eager to play down, insisting that regulations are in place.
"First of all, I must stress that we can't talk about 'selling' passports," said Dimitriades.
"In any case, the illustration of the Cypriot passport in advertisements won't be allowed any more. More precisely the marketing of the programme won't be allowed - only in a very strict way and there is also a special monitoring committee and a list of the service's providers."
Limassol is a particular favourite of those who have made the move from Moscow. Last year, Cypriot authorities said that more than 2,000 passports were issued, with half of them going to Russians.