FBI expresses 'grave concerns' over secret memo Trump plans to release
Comments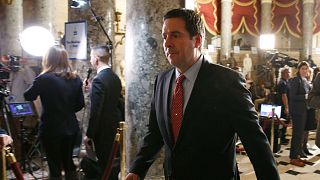 Copyright

REUTERS/Joshua Roberts

-
The FBI said it has "grave concerns" about the accuracy of a controversial Republican-drafted intelligence memo purporting to show anti-Trump bias in the Justice Department, challenging the US president's pledge to release it.
In a rare statement, the FBI said it was provided a "limited opportunity" to review the document before the House Intelligence committee voted to release it on Monday.
"As expressed during our initial review, we have grave concerns about material omissions of fact that fundamentally impact the memo's accuracy," the top US law enforcement agency said.
However, just a few hours after the public rebuke, a Trump administration official said the memo was likely to be released on Thursday.
The four-page memo, compiled by staff of the House Intelligence Committee Chairman Devin Nunes, claims the Department of Justice abused the surveillance programme FISA to unfairly target a member of the Trump campaign.
The document is at the centre of a partisan fight over investigations into alleged Russian meddling in the 2016 US presidential election and possible collusion by Trump's campaign, which both Russia and Trump have both denied.
Justice Department officials have also said that releasing the memo could jeopardise classified information.
In a statement Nunes described objections to its release as "spurious".
"It's clear that top officials used unverified information in a court document to fuel a counter-intelligence investigation during an American political campaign. Once the truth gets out, we can begin taking steps to ensure our intelligence agencies and courts are never misused like this again," he said.
In his State of the Union address to Congress on Tuesday night, Trump said there was a "100 percent" chance the memo would be released, though he is reportedly yet to read the document.
A White House official said the memo was delivered to the White House on Monday after the Republican-dominated committee voted to release it.
Administration lawyers are currently working to determine if any of it should be redacted to protect national security, the official said.
Adam Schiff, the intelligence committee's ranking Democrat, said he had discovered Nunes had sent a version of the Republican memo to the White House that had been "materially altered".
The White House is therefore "reviewing a document the Committee has not approved for release," he said.