Southern Yemen forces take control of Aden
Comments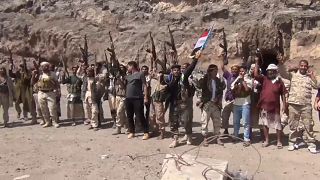 Separatists in Southern Yemen have taken control of the port city of Aden after two days of fighting, confining the government to the presidential palace.
Fighting between southern Separatists, backed by the United Arab Emirates, against forces loyal to Saudi-based President Abd-Rabbu Mansour Hadi risks crippling the once united campaign against Iran-backed Houthi's in the north.
Houthis seized much of the country three years ago.
Residents said forces loyal to the Southern Transitional Council have seized the last stronghold of Hadi's Presidential Protection Forces in Northern Aden.
Crowds chanted slogans demanding the restoration of the southern state and activists shared photos on social media of them flying the flag of the former independent state flying over the base's gate.
The International Committee of the Red Cross said at least 36 have been killed and 185 wounded in the latest wave of fighting which began on Sunday.