Brexit impact report 'will not be published in full'
Comments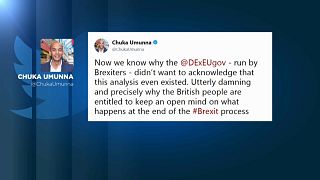 The UK government says a leaked Brexit impact report will not be made public.
MPs from most main parties across Britain – including the ruling Conservatives and Labour opposition – have pulled together to call for the whole report to be published.
But Brexit Undersecretary Steve Baker said the document had not been finalised and its release in full could harm divorce discussions with the EU.
The document predicted an economic blow to the UK, regardless of a hard or soft Brexit being negotiated. But Conservative MP Jacob Rees Mogg disagreed.
"These forecasts come from the same source as the rotten forecasts made before the vote to leave. The treasury at that point said that unemployment would rise between 500 and 800 thousand. That turned out to be nonsense. Bad forecasters come up with bad forecasts [...] To think you have any idea where the economy will be in 15 years is erroneous", he said.
The report forecast scenarios ranging from exiting the bloc with no deal, to remaining within the EU single market and Customs Union; a prospect pro-remain MPs are avidly backing.