Russian models slogging it out in China
Comments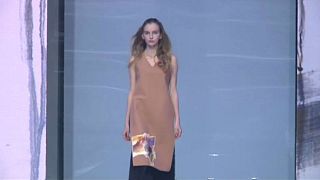 Strutting the catwalks in Paris — that's the dream for aspiring young models from eastern Europe.
But for many, including 17-year-old Russian Polina Zubritskaya, the bright lights of the French capital remain elusive as they slog it out in less prestigious industries like China's.
During China Fashion Week in November, her working day lasted nearly 24 hours.
"You can't sleep normally because you don't know what is going to happen tomorrow: things can change every five minutes. A day of work can be one hour and it can be 12 hours or more. There's no time for anything else"
Lucrative option?
But the work can also be lucrative. Zubritskaya said she earned about €3800 during her three-month stay.
It's a similar story for Lisa Kovalenko, 18, also on a three-month work visa in China. She hopes that work in Beijing will help her to access the European market.
"It's difficult work. But you gain a lot of experience, which is useful if you want to get work in Europe and in countries like Ukraine and Russia. China is good training for any model. After working there, a model will be experienced and knows how to pose. And of course in China, you are making good money. Everyone comes here for the money."
Teenage death
Last autumn a 14-year-old Russian model died during Shanghai Fashion Week, sparking a debate about working conditions, even though her agency denied that she was overworked.
China has laws allowing children under the age of 16 to work in certain industries.
Despite this, Zubritskaya still thinks that all her struggles are worthwhile and she hopes that one day she might be chosen as one of the happy few to hit the catwalks in Paris.