Russian jet came within 5 feet of U.S. recon plane, Navy says
Comments
By Alex Johnson and Hans Nichols with NBC News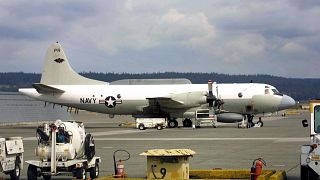 -
Copyright

Dan Levine AFP - Getty Images file
A Russian fighter jet intercepted a U.S. reconnaissance plane near the Black Sea on Monday, both countries said, but that was all they agreed on.
The U.S. Navy said its EP-3 Aries plane was flying over the Black Sea in international airspace when it was intercepted by a Russian Sukhov SU-27 fighter jet.
Millitary officials said the Russian pilot flew in an "unsafe" manner, tracking the U.S. plane for more than 2½ hours — and at one point coming within 5 feet of the U.S. plane.
The Russian jet crossed "directly through the EP-3's flight path, causing the EP-3 to fly through the SU-27's jet wash [wake turbulence]," the Navy alleged.
"The Russian military is within its right to operate within international airspace, but they must behave within international standards set to ensure safety and prevent incidents," it said.
But the Russian Defense Ministry gave a sharply different account: The U.S. plane was getting close to Russian airspace, it said, and its pilot approached at a safe distance.
"The crew of the fighter followed [the U.S. plane], avoiding the violation of the airspace of the Russian Federation with observance of all necessary security measures," the Defense Ministry said. "After the spy plane of the U.S. Navy changed the flight path from the airspace of the Russian Federation, the Russian SU-27 fighter returned to the airfield."
Russia insisted that the interception "took place in strict accordance with international rules of airspace use."
The EP-3 Aries series of planes, the Navy's only land-based reconnaissance aircraft, uses a wide range of equipment to detect electronic transmission from deep within targeted territories, allowing it to pick up signals intelligence far inland even when it is flying offshore, according to U.S. Naval Air Systems Command. The nimble Sukhoi SU series is Russia's advanced twin-engine fighter jet, roughly equivalent to the U.S. F-15 Eagle.
The Black Sea has been a center of tension between Russia and NATO ever since Russia annexed the Crimean peninsula from Ukraine in 2014. NATO and the United States have regularly accused Russia of performing unsafe maneuvers close to their aircraft and warships, most recently in November.
The United States alleged then that a Sukhoi SU-30 flew within 50 feet of a U.S. P-8A Poseidon anti-surface-warfare and reconnaissance plane in international airspace over the Black Sea, causing "violent turbulence."
Russia said at the time that it scrambled the jet because the U.S. plane was approaching its borders "at high speed."