Vilnius is Europe's g-spot claims the poster interesting tourist bosses
Comments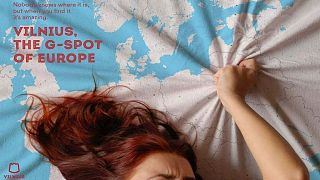 -
[You can view a newer version of this story, here.]
Tourism chiefs in Vilnius are in talks to use a viral poster that compares the Lithuanian capital to the female g-spot.
The publicity, produced by two students, shows a picture of a woman lying on a map of Europe with her hand "gripping Lithuania".
It reads: "Vilnius, the g-spot of Europe." Above, it adds: "Nobody knows where it is, but when you find it, it's amazing."
It was created by Jurgis Ramanauskas, 25, and Skaistė Kaurynaitė, 27, during a creative advertising course at The Atomic Garden School in Vilnius.
"It's a pleasure for us to see our students' work getting so much attention," Kęstutis Kuskys, a project manager at the school told Euronews.
"Our school doesn't sell ideas created by students. However, Go Vilnius is planning to use it for Vilnius' communication abroad, so negotiations are in progress."
Have you seen a better tourism poster? Let me know: chris.harris@euronews.com