Trump turns the tables on immigration
Comments
By Jonathan Allen with NBC News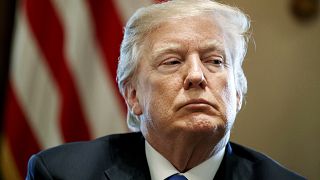 -
News analysis
WASHINGTON — Arkansas Sen. Tom Cotton, the leading immigration hard-liner in the Senate GOP, likes President Donald Trump's new immigration plan.
So does Republican Rep. Carlos Curbelo, a Cuban-American advocate for immigrant rights who represents a politically competitive Florida district.
And while Illinois Sen. Dick Durbin, the key Democratic negotiator on Capitol Hill, sharply criticized the proposal's provisions for a border wall and curtailing legal immigration, he stopped short of saying there's no room for negotiation.
Ultimately, Trump has turned the tables on them.
The White House's proposal to Congress would provide a legal path to citizenship for 1.8 million "Dreamers" who were brought to the U.S. illegally as children and a $25 billion "trust fund" to build the border wall. It would also sharply curtail legal immigration by ending the nation's diversity visa lottery program and limiting the ability of legal immigrants to sponsor family members who are not spouses or children.
By offering to protect Dreamers who had signed up for President Barack Obama's Deferred Action for Childhood Arrivals program and those who didn't, he's putting pressure on Democrats and their allies to concede to him not just on advance funding for the wall with the "trust fund" but also to consider changes to the legal immigration system.
That is, his opening bid offers them what they've been clamoring for, but at a steep price.
Trump probably won't get everything he wants, but with the fight shifting to U.S. policy on legal immigration, he has outlined a clear path for Congress that could satisfy those who want to permanently protect Dreamers and those who voted for Trump because of his border wall plan and the larger crackdown on illegal immigration that it has always represented.
"You could see a happy ending in sight here," said Jeremy Robbins, executive director of the Partnership for a New American Economy, which supports comprehensive immigration reform. "The proposal itself is a complete non-starter ... What seems extremely clear is there is broad bipartisan support in both houses [for legislation] that is citizenship for Dreamers and a lot of funding for the border."
There's not much time for Congress to act. Trump announced in September that he would end the DACA program the first week of March. When Democrats agreed to reopen the government on Monday after a two-and-a-half-day shutdown, Sen. Mitch McConnell, R-Ky., said it was his intention to debate legislation on the floor early next month.
It's hard to see how proponents of curbing legal immigration would amass the votes necessary to implement the president's proposal. And it's just as easy to see why Trump might think it was in his best interests to start with a hard-line position on those provisions if he were ultimately going to sign legislation that fell short of his announced goal.
Already, the most hard-line elements in his own party are balking.
Rep. Steve King, R-Iowa, the House's most strident critic of both illegal and legal immigration, trashed the plan on Twitter Friday.
"The American People have a Right to enforcement of our laws & a Right to a sealed border. Illegals have No Right to be here & have ALL violated our laws. This #Amnesty deal negotiates away American Sovereignty," he wrote.
And Roy Beck, president of NumbersUSA, which supports immigration limits, promised to fight the administration's proposal.
"Under the White House framework, young-adult illegal border crossers and visa overstayers would get immediate benefits, including, most importantly, the right to compete with Americans in the permanent job market," Beck said. "But vulnerable American workers would get little or no relief from the competition of chain migration for 15 to 20 years."
Congress still has a lot of work to do on an issue that has bedeviled lawmakers for years, but Trump responded to calls for the White House to weigh in on its position with an outline that makes serious concessions to Democrats on the Dreamers and asks them to guarantee funding for the wall.
In doing so, he made it harder for both Democrats and Republican critics to argue that he isn't trying to find a solution, and he risked alienating portions of his base in the name of legislating. For a president who has struggled to cut the kind of bipartisan deals he promised he'd make on the campaign trail, the proposal is a big step in that direction.