'The story is not about me': Michigan judge provides support to Nassar victims
Comments
By Phil McCausland with NBC News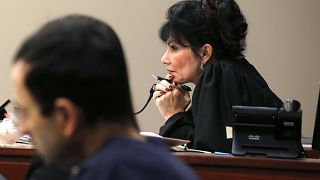 Copyright

Jeff Kowalsky AFP - Getty Images

-
She writes crime fiction, was the first female JAG officer in the Michigan National Guard, found Detroit's bankruptcy in violation of the state constitution, but now Judge Rosemarie Aquilina — who carries a fiery red streak in her hair — is being hailed as the hero of the Larry Nassar abuse case.
During her sentencing remarks that lasted more than 30 minutes, the judge eviscerated former Olympic gymnastics doctor Larry Nassar, offered her continued support for the 156 victims who read impact statements against their former physician and ordered that Nassar face between 40 and 175 years in prison.
"It was my honor and privilege to sentence you," she told Nassar, who stood throughout her statement in a blue prison jumpsuit. "Because, sir, you do not deserve to walk outside of a prison ever again."
Her words came at the very end of a hearing that lasted more than a week in which she provided Nassar's victims an opportunity to speak — one after the other — as well as her own words of support. She extended the hearing three times as more victims came forward.
Related: Highlights from Judge Rosemarie Aquilina's sentencing of ex-USA gymnastics doctor
If it was up to her, she said, Nassar would never experience freedom again.
"I find that you don't get it: that you are a danger. You remain a danger," Aquilina told the former physician. "I am a judge who believes in life and rehabilitation when rehabilitation is possible."
She added, "I don't find that's possible with you."
But allowing those affected by Nassar to speak did provide a service, she said, transforming them from victims to survivors.
"I am doing my job, I give everybody a voice. I try to treat everyone like family because that is the justice system that I was taught to believe in," she said. "My grandma always told me that America is the greatest country, that is why I served in the military and why I do community service."
Related: 'Army of women' fights gymnastics doctor Larry Nassar with words
During the sentencing, Aquilina noted that she is a naturalized citizen of the United States, having moved here when she was a toddler. Her father is from the island of Malta, and her mother is German.
And ever since, her story seems to be an actualization of the stereotypical American dream.
According to her official biography on Ingham County's web site, Aquilina was elected to the 30th Circuit Court for Ingham County in 2008. Prior to that she had served in the Michigan Army National Guard for 20 years, and was Michigan's first female JAG Officer in the Michigan Army National Guard when she enlisted.
While in the military, her peers referred to her as "Barracuda Aquilina," according to Washtenaw County Legal News. And she's known to wear cowboy boots beneath her robes.
"I find them to be the most comfortable boots ever, and if I could live in jeans and cowboy boots, I would," she told the local news organization.
These days, when she's not on the bench, Aquilina teaches at both Western Michigan University Cooley Law School and Michigan State University School of Law, where the classes she teaches include "Defending Battered Women" and "Child Abuse and Neglect." Both schools have honored her for teaching ability.
In her sentencing remarks, Aquilina noted that because of her honesty — which seemed to be on display throughout the hearing — that she herlself is not well liked and does not have many friends.
But, she told the Lansing State Journal earlier this month, that she fills any loneliness with writing, and it has led to results.
Related: Gymnastics doctor Larry Nassar gets 40 to 175 years for sex abuse
Fiery Seas, an Alabama publisher, put out her detective novel "Triple Cross Killer" in December. It is a tale set in Detroit and Florida that is intended to be part of a larger series.
Yet to many, more important than her publication history is her decision to support victims and offer them an opportunity to speak — pushing Aquilina to become a new symbol of the #MeToo movement.
A particular notable statement came on Friday from Olympic gold medalist Aly Raisman that seemed to encapsulate the moment's importance.
"My dream is that one day everyone will know what the words 'Me, Too' signify," Olympic gold medalist Aly Raisman said. "But they will be educated and able to protect themselves from predators like Larry, so that they will never ever, ever have to say the words, 'me, too.'"
"Thank you," Aquilina told Raisman, as the room broke into applause.
"That was well deserved," the judge said of the crowd's cheers.
On the other hand, she has not offered sympathetic comments to Nassar, who complained in a letter that the judge had turned the proceedings into a "media circus" for her own gain.
Aquilina called the claim "entertaining" in court last Thursday, while she read Nassar's letter aloud.
She read portions of the letter again during sentencing on Wednesday — which earned audible gasps from the courtroom crowd when she a read a section that said, "Hell hath no fury like a woman scorn. She then looked Nassar in the eye and tossed the letter aside.
Aquilina's words and actions have earned her praise on social media from victim Lindsey Lemke and those who have paid attention to the case. To many, she has become a new and important figure of the #MeToo movement.