Banned for Botox: 12 camels disqualified from Saudi beauty pageant
Comments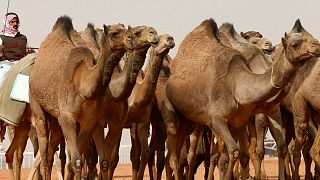 Copyright

REUTERS/Faisal Al Nasser
Twelve camels were excluded from a beauty pageant in Saudi Arabia after their owners injected them with Botox to thicken the animals' lips.
The King Abdulaziz Camel Festival, which takes place in Al Dhana outside Riyadh, does not allow participants to enhance the animals' features with any sort of drugs or plastic surgery.
But the alluring prize of more than €45 million drove participants to use some unfair practices.
Droopy lips and large features are sought-after beauty features for the four-legged participants, said The National, a UAE news website.
"Cheaters are creative," said Ali Obaid, a camel owner, to The National. "They start to pull the lips of the camel, they pull it by hand like this every day to make it longer. Secondly, they use hormones to make it more muscular and Botox makes the head bigger and bigger. Everyone wants to be a winner."
The 12 camels were disqualified after a veterinarian was caught injecting the animals with Botox.
More than 30,000 camels were displayed at the month-long festival, which is the largest camel pageant in the country.