Member of Germany's far-right AfD party 'converts to Islam'
Comments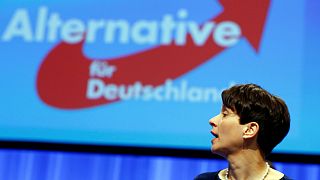 It's the far-right party in Germany that enjoyed unprecedented success opposing Islam and Angela Merkel's decision to let in around 1.3 million migrants and refugees from mainly Middle Eastern countries.
Alternative for Germany (AfD), who entered the German parliament for the first time last year, adopted policies that included banning minarets, the call to prayer and the full-face veil.
Now one of its senior members has caused a big stir by converting to Islam.
Arthur Wagner, who has sat on AfD's state legislative committee in Brandenburg, told German daily newspaper Der Tagesspiegel his conversion was a private matter.
Last summer he criticised Merkel's open border policy, suggesting Germany was mutating into another country.
AfD spokesman Daniel Friese told Berliner Zeitung that his conversion was not a problem and that the party believed in freedom of religion.
He said Wagner had been a member of AfD's national executive committee but "resigned some time ago for private reasons".
The homepage of AfD Brandenburg reads: "Islam does not belong to Germany for us. We see the ideology of multiculturalism as a serious threat to social peace and cultural unity."