Viola Davis-narrated docu-series explores fatal police encounters
Comments
By Karu F. Daniels with NBC News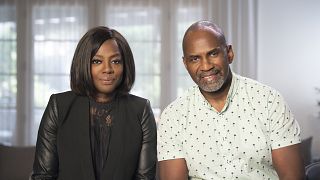 Academy and Emmy Award winner Viola Davis is stepping behind the scenes for a new docu-series that shines light on fatal police encounters.
"Two Sides," a four part series, will begin Jan. 22 on the TV One network and was co-executive produced and narrated by Davis. Focusing on the higher profiled controversial cases of officer-involved deaths, each one-hour episode offers comprehensive insight into the fatal encounters involving Eric Garner in New York, Ezell Ford in California, John Crawford in Ohio, and Sandra Bland in Texas — all occurring within a one year span.
The series aims to tell each story objectively, with hopes of bringing an understanding to the fore.
"Our goal is to bridge the gap between white, black, and blue and to really spark these conversations," co-executive producer Lemuel Plummer told NBC News. "That is the hope that this show will be able to bridge the gap and spark conversations."
The four cases profiled in "Two Sides" have become a rallying call for numerous protests around the country.
43-year-old Eric Garner died in 2014 while being arrested in Staten Island when police tried to arrest him for allegedly illegally selling loose cigarettes. Video footage of Officer Daniel Pantaleo putting Garner in the fatal chokehold went viral. Although the medical examiner ruled his death a homicide, a grand jury declined to indict the officer.
Also in 2014, 22-year-old John Crawford III was shot by officers while carrying a BB gun at a Wal-Mart store in Beavercreek, Ohio. A grand jury did not to indict Officer Sean Williams and Sgt. David Darkow.
That same month, Ezell Ford died at 25 years old after being shot three times in the back during a scuffle with LAPD Officers Sharlton Wampler and Antonio Villegas. In June 2016, the Los Angeles Board of Police Commissioners concluded that only one of the officers was justified in the shooting.
Sandra Bland was found hanging in her jail cell after an arrest at a traffic stop three days prior in Hempstead, Texas during the summer of 2015. Her death was ruled a suicide despite her family's contention.
"People have to know that these victims also were people who were not born under a rock… and this is a way of humanizing these victims and not just making them a statistic," Davis said during a behind-the-scenes interview filmed during production. "What this show does is it arms you with as much information, even information you probably didn't want to hear when the incident happened."
Producing the polarizing subject matter presented various degrees of difficulties for the production team, Plummer added, noting that there were "thousands of cases, incidents that happened, for years. We had a hard time really selecting those but we were able to overcome all of those challenges to get the right people to participate and they trusted us to give them a fair shot, share their perspective without a biased approach and balance the show out which we've been able to do."
Throughout the series, California Congresswoman Maxine Waters, attorney Christopher Darden, and civil rights activist and MSNBC host Rev. Al Sharpton also contribute commentary.
"There are two sides to every story," Sharpton said in the premiere episode. "I believe the policeman has a side; I believe the victim has a side; But there is only one truth."
Julius Tennon, Davis' husband and producer partner at their Los Angeles based Juvee Productions firm, said they were excited to get involved in an impactful project.
"We jumped on board with these guys because it's the topic that's been going on over the last several years, probably forever," he said. "Social media has made us be able to see things more but it was certainly great for Lemuel and his team to bring it to us. We saw the need to be involved so we got involved."