Sexual harassment affects business too, says Microsoft VP
Comments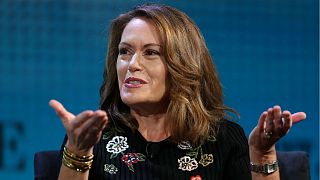 Microsoft's top dealmaker has opened up about her experiences of sexual harassment in the tech industry, warning that the issue has a "business impact."
Peggy Johnson, executive vice president of business development at the tech giant, was speaking on a panel at the World Economic Forum in Davos, Switzerland, on "Gender, Power and Stemming Sexual Harassment" on Tuesday.
"When the #MeToo campaign first came out, I remember talking to a group of my friends and they said 'well it should have been #WhoHasn't', because literally everybody has a story," she said.
Johnson recalled female staff in former workplaces avoiding men's offices "who might say something inappropriate about your dress," and "the customer who you wanted to end that dinner [with] and say 'I've got to go' because you didn't want to be propositioned."
She lamented the time women in her industry had wasted avoiding sexual confrontations with male colleagues and seniors, which they could have spent furthering their own careers.
"Not only should we be changing this because it's the right thing to do, there's a business impact to this and that just angers me when I look back at it now."
Johnson said that as her status has risen, she has faced less sexism in the office, and has also learned to react to it differently.
"I have a daughter who just entered the tech industry and she told me the other day, 'Mum when I'm at work and I hear inappropriate jokes, I don't laugh,' and I thought to myself first I always laughed, I thought I had to," she said.
"I don't anymore because I'm in that position of power."
Microsoft hit headlines last year when it eliminated forced arbitration agreements that required employees to resolve sexual harassment cases outside of the courtroom, and away from the public eye.
It is also backing a proposed US federal law that would ban such agreements and has urged other companies to do the same.
"If anything, the #MeToo movement taught us that we're silencing voices. We need to hear these voices," Johnson said.