Green card doctor faces deportation 26 years after committing minor offence as a teen
Comments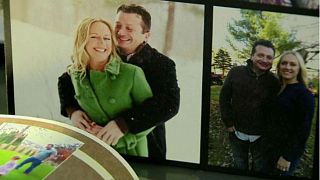 A doctor who has lived in the US for almost 40 years has been arrested and threatened with deportation over minor offences he committed as a teenager.
Polish national Lukasz Niec was living in Kalamazoo, Michigan, on a permanent green card with his wife and two daughters when immigration agents stormed into his home last week and took him into custody.
His detention stems from two minor crimes he committed as a 17-year-old: destruction of property worth less than $100, and receiving and concealing stolen goods.
At the time, he pleaded guilty to both charges and avoided a criminal record under a US law that protects young first-offenders if they never offend again.
But US Immigration and Customs Enforcement (ICE) does not recognise such plea agreements.
"These misdemeanors were just an adolescent making mistakes and learning from them," Niec's sister Iwona Niec-Villaire told Wood TV8 on Saturday.
Niec was five years old when he and his family left Poland in search of a better life. They moved to the US in 1979.
The 43-year-old currently awaits his fate in a jail cell in Calhoun County.
Speaking through tears, Iwona said: "The question I get all the time is 'why do you think this happened?' and I just really don't know.
"He doesn't even speak polish."
Crackdowns on illegal immigrants have increased under US President Donald Trump, whose administration takes a hardline stance on immigration.
Bronson Methodist Hospital, where Niec worked, said it was closely monitoring the situation and doing everything it could to advocate for the doctor.
"Since 2007, Dr. Niec has been a skilled and caring physician, a valued employee and respected member of the Bronson medical staff," the hospital said in a statement.
In a statement to NBC, an ICE spokesperson said of Niec: "He most recently came under agency scrutiny as a result of 18 encounters with local law enforcement. He will remain in ICE custody pending the outcome of removal proceedings.
"ICE does not exempt classes or categories of removable aliens from potential enforcement. All of those in violation of the immigration laws may be subject to immigration arrest, detention and, if found removable by final order, removal from the United States."
A spokesperson for the Polish Embassy in the US, Malgorzata Safianik, told Euronews that the ministry of foreign affairs was aware of Niec's case and that they're in contact with the family.
"The case of Mr. Lukasz Niec is well known to Polish authorities. The Polish Consulate General in Chicago remains in contact with the detained Polish citizen and his family. The Ministry of Foreign Affairs and Polish authorities in the US are not authorized to provide any further information on this matter to third parties," she said to Euronews.