Four months later, military vets still on a mission in Puerto Rico
Comments
By Gabe Gutierrez and Bianca Seward with NBC News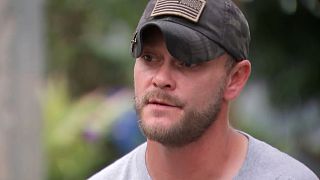 -
TRUJILLO ALTO, Puerto Rico — Just before 9 a.m., Jason Maddy drives up to a nondescript park for his latest mission.
He's meeting his team for yet another trek to the mountains.
The Iraq War veteran seems thinner than he was just several months ago. The long days have weighed on him. He's foregone sleep. He looks tired.
But he has a purpose.
"They are Americans," he says. "They deserve help, they deserve support, and they deserve not to be forgotten."
Saturday marked four months since Hurricane Maria slammed into Puerto Rico. NBC News first met Maddy in October as he and other veterans rushed in supplies to the remote western parts of the island. One of their social media posts — where they expressed frustration that red tape had prevented aid from these areas — had gone viral.
"It just shows that regular citizens and veterans can make a difference," Maddy says.
Since then, he's launched his own non-profit group: Veteran Disaster Relief.
"I don't think that I could look myself in the mirror and know that I walked away from the people here," he says, choking back tears. "They say in the Army that you never leave a soldier behind and we can't leave these Americans behind."
Besides his tattoos, the thing you immediately notice about Maddy is his worn, twisted ballcap. It shields his eyes — and doesn't let you see exactly what he's on his mind.
He grew up in Beckley, West Virginia. He quickly joined the Army in 2000 and served until 2015. During that time, he served in Iraq, Guantanamo Bay and South Korea. He injured his back during a 2015 training exercise in Hawaii.
"I've dealt with PTSD," he said. "It's been a struggle for me and my wife."
His wife, Aliesha, is a schoolteacher in South Carolina. Like many veterans, he had trouble adjusting to life back home. It's part of the reason why he's jumped into the aftermath of natural disasters. Before Maria, he volunteered after Hurricanes Harvey and Irma, too.
"He bought a ticket and he was supposed to be back in two weeks," his wife said.
He wasn't. Maddy's stayed for the better part of four months — though he did take a short break over Christmas.
"I miss him a lot," she said. "I'm proud of him — that he's found his purpose."
Among the new volunteers is Jose Lebron, a retired Air Force veteran from San Antonio.
"I've been all over the world to help other counties and other people," he said. "It's time now to help Puerto Rico."
Another volunteer is Lisette Gonzalez, a Cleveland police officer who said she's using vacation time to come down to Puerto Rico to help.
"I saw Jason's post and contacted his wife and said 'how can I get involved?' she said." 'I'll go tomorrow! Just let me know."
Together, they're traveling through the mountains bringing food, water filters and medical care to lines of people still desperate for help.
Clarybel Santana is sleeping in what's left of her shredded home. As if that wasn't hard enough, she said her father died on Christmas Day after months without power.
"We're desperate," she said in Spanish, adding that she's grateful volunteers like Maddy have come to help. She said FEMA won't install a blue tarp on her house because the structure has been deemed too risky. She added that she sleeps there because she has nowhere else to go.
Nearby, 70-year-old Israel Ortiz strums his guitar to dull the pain. He's diabetic and bedridden — and has been without power since Maria struck.
Maddy and his team are bringing him a generator. Once it's plugged in, Ortiz applauds as he feels the cool air from his electric fan for the first time in four months.
"You just feel a joy in your heart that you potentially save their life — or at least improved it," Maddy says. "And to be a part of that is incredible. It's something that I'll never forget."