New trailer reveals "Tomb Raider" reboot has teeth
Comments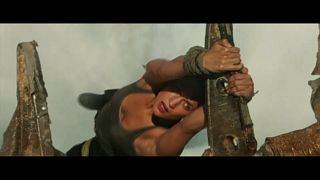 A new trailer has been released for the upcoming "Tomb Raider" reboot, which goes back to Lara Croft's origins to see just how she became the interpid, death-defying explorer of legend.
Sweden's oscar-winning Alicia Vikander takes over the Angelina Jolie role, and Hollywood has, perhaps surprisingly, entrusted the relaunch of what everyone hopes will be a lucrative franchise to an award-winning Norwegian director, Roar Uthaug.
Dominic West plays Lara's father, and Daniel Wu a ship's captain who helps Lara in her quest. Walton Goggins gets to play the bad guy with glee.
Back in 2001 the original movie, based on the successful smash-hit computer game of the same name, set the tone for the new generation of action heroines and Jolie blazed a trail. Vikander is not taking on the role at a similar watershed moment and so may not make the impact Jolie did.
However in the current climate another strong resourceful female role model won't go amiss, and "Tomb Raider" promises to be just one of many big female-driven movies in 2018.